The entire experience with Nshongi Tours was so excellent more than I thought. The safari tour was great, the guides and the staff, the hotel and room services were all so good and professional. I would like to visit again.
John B
My trip was amazing and unforgettable. From the moment I arrived in Kigali, I was made to feel welcome by Stella and Isaac and I was very impressed by their professionalism and courtesy.
Robert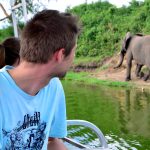 This was such a fantastic memorable trip, I'm looking forward to joining again and with more of my friends.
Patrick K